For further information on any of the businesses featured, search our online directory by industry sector
Following unparalleled expansion across mainland Europe, electro muscle stimulation franchise Bodystreet is replicating its success in the UK with the opening of three sites in quick succession.
With over 240 franchises operating profitably throughout Germany and Austria, Bodystreet is the global market leader in EMS training. The company's micro-studio model has helped give it the edge over competitors, attracting franchisees internationally.
By taking advantage of small, cost-effective retail spaces, Bodystreet has alleviated the problem of finding large sites - often an issue cited by other fitness franchises. Combined with relatively low start-up costs and comprehensive training and support, this means the time it takes to establish and open a new studio is extremely fast.
The low membership requirements and site set-up costs result in a projected return on investment within 12-18 months - another reason why take-up has been so positive to date.
Mark Holland, managing director of Bodystreet UK, says: "People are so drawn to EMS training because it promises visible results with just one weekly 20-minute session. The UK population will not get less busy or overweight and we offer a solution for these people."
What you need to know
Investment level:
£60,000.
What you get:
tried and tested structure for finding, fitting out and launching your studio; help in finding personal trainers; marketing support; national PR.
The Coyote Ugly legend began with a girl, a dream and a little bit of Wild Turkey.
In 1992, Liliana 'Lil' Lovell, a 24-year-old Wall Street apprentice turned bartender, was doing a job she loved, making money and gaining notoriety for her moves on the bar as well as behind it.
Tired of working for other people, she was ready to make some changes. Determined not to let anyone or anything get in her way, she drew up a business plan: beautiful girls plus booze equals money.
Today, after 25 years Coyote Ugly is coming to the UK, as well as other key locations worldwide. A perfect fit for the European market, Coyote Ugly is both a bar and entertainment venue - visitors can grab drinks while watching the Coyotes (bartenders) dazzle the crowd with dancing and singing.
What you need to know
Investment level:
ranges from £700,000-£1,500,000.
What you get:
robust training and operations system, which includes training of owners, managers and staff; assistance with site selection and procurement; store design; brand and marketing guidance; ongoing support.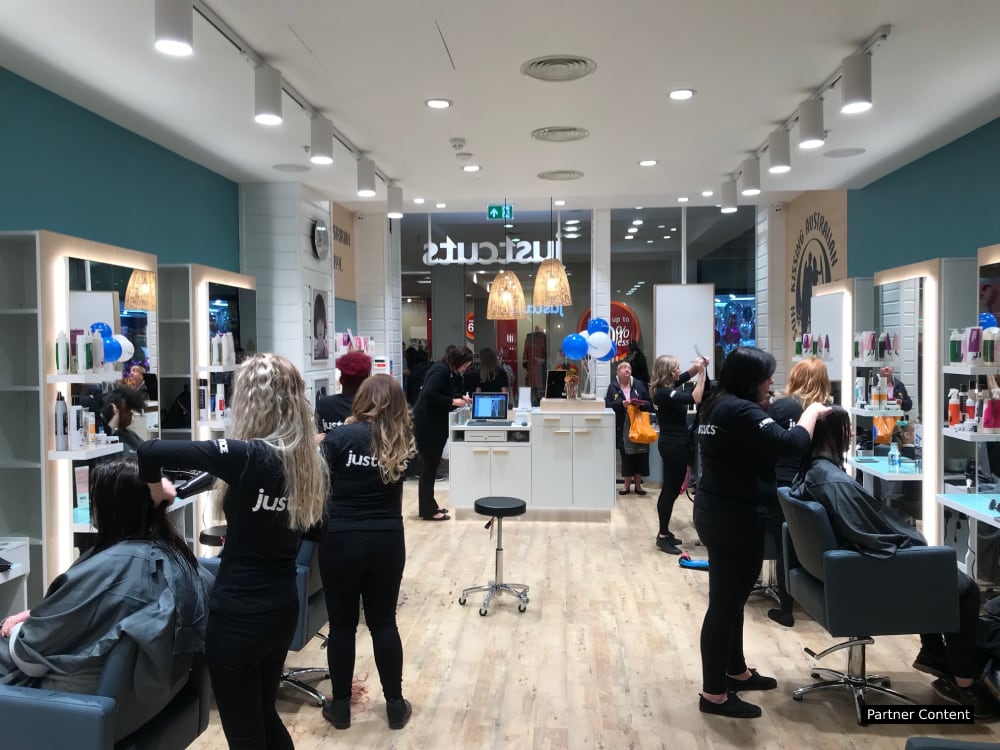 Just Cuts is the largest hairdressing franchise in the southern hemisphere. It's a hairdressing salon that bridges the gap between an old-style barber and a high-end hair salon. With no hairdressing experience necessary, the internationally-renowned franchise opportunity appeals to entrepreneurs from all walks of life. In Australia and New Zealand, over half of the brand's network are multi-unit franchise owners – in the UK, the entire network already owns multiple locations or are planning on investing in a second location within the next six months.
As part of the brand's ongoing growth for international expansion, Just Cuts has also implemented a number of innovative initiatives to increase its brand presence in the UK. The key component of this strategy includes securing and opening quality retail locations that new franchise owners can subsequently invest in. This has already resulted in the launch of new salons in Yorkshire, the north east and Essex.
"Just Cuts is a unique opportunity for anyone looking to own a business. It's changed my life and I look forward to investing in multiple locations in the future," Holly Feltham, Just Cuts Lakeside.
What you need to know
Investment level:
£45,000
What you get:
You get all the support you need from day one of becoming a Just Cuts franchisee and the benefits of joining a tried and tested franchise system that has been working for 30 years. A turnkey franchise, that runs itself. Just step into a business that offers you the work-life balance that you have been searching for.
Your dedicated UK support team will provide you with robust training, digital operations system, training of team leaders and stylists; assistance with site selection and procurement; salon design and fit-out; brand and marketing guidance; PR support.
Mail Boxes Etc is the one-stop brand to satisfy the creative, business, sales and community focused entrepreneur.
It offers international parcel delivery, courier and postal services, business card and leaflet printing, fast digital copy services and mailbox rental or a virtual office package among many other business solutions.
Founded in 1980 in California, Mail Boxes Etc grew quickly to 5,000 stores across America. Its success continued worldwide, where there are currently over 1,600 Mail Boxes Etc stores, including a network close to 160 outlets across the UK and Ireland.
The strength of the business model is what keeps Mail Boxes Etc ahead of the retail sector, while its multi-faceted revenue stream, coupled with a willingness to innovate, means this high street franchise is a perfect fit for someone prepared to offer practical solutions alongside quality customer care.
What you need to know
Investment level:
£60,000-£70,000 (plus VAT).
What you get:
pre-launch and ongoing training; help with site location and lease negotiation; financial and business planning support; national marketing activity.
A management franchise, Mr Electric was launched in America in 1994 and is part of franchising powerhouse The Dwyer Group.
The electrical services market is predicted to increase by just over £2 billion to £20.6 billion by 2020. Mr Electric franchisees are perfectly positioned to take advantage of this forecasted growth, with its energy saving products guaranteed to secure new business and long-term contracts.
Many franchisees join Mr Electric having already worked either as an electrician or in a management position. Others want to convert their existing business to an established brand.
Using The Dwyer Group's experience, franchisees receive outstanding training to support both management and electrical operations, ensuring the best possible start to being your own boss.
What you need to know
Investment level:
minimum personal investment is £15,000. Typical start-up cost is around £50,000 (plus VAT).
What you get:
comprehensive training; exclusive licence; start-up coaching and consultancy; technical training and support; marketing assistance.
French kitchen manufacturer Mobalpa opened for business in the French Alps in 1907 and now reaches more than one million customers internationally.
Before investing, prospective franchisees undertake a testing process that all Mobalpa directors, designers and managers have completed. Training days take place at the company's concept showroom, followed by a seven-week programme in France, where prospects are briefed on running a kitchen showroom, the products and the selling process.
The UK team then continue to support all franchisees with business and retail skills, utilising their combined retail experience in the country.
With plans to expand the franchise network across the country, Mobalpa is looking for franchisees who can multitask, are forward facing in a customer environment and are motivated to succeed.
Country manager Kyle Whittle says: "We're excited about continuing our growth and look forward to meeting new people with the drive to run their own business as part of a leading kitchen brand."
What you need to know
Investment level:
personal investment required is between £100,000-£150,000.
What you get:
seven-week training programme in France; training days in the UK; recruitment assistance; marketing and PR support; financial support; showroom design and development support.
Founded in 1986, Signarama is the largest signs and graphics franchise in the world.
Franchisees enjoy all the benefits that go with it, including world class training and support, enviable collective buying power, instant brand recognition and an R&D department focused on bringing the latest technology and software innovations to market.
With the launch of its Light model in 2017, Signarama created a concept that offers a more affordable entry point to the industry. A low fuss, low overhead opportunity, the Light showrooms are fitted out like other Signarama centres, but without the production equipment.
The smaller footprint means lower rent and business rates and because production is outsourced, franchisees concentrate on driving sales and delivering service.
Managing director Aliyyah Nasser explains: "We wanted to open the opportunity up to a much wider audience.
"The Light model is the ideal way for ambitious professionals to dip a toe into the lucrative sign market, with the option to upgrade to a full production franchise as their business grows."
With over 900 franchisees in 60 countries, the brand enjoys an excellent reputation for delivering quality products and outstanding customer service.
A testament to this is that over 70 per cent of franchisee turnover comes from repeat business.
What you need to know
Investment level:
from £25,000 minimum personal investment.
What you get:
five-week initial training; dedicated development manager; quarterly regional meetings; access to the franchisee marketing committee; ongoing support in all aspects of the business.
The Subway brand is the largest quick service food outlet in the world, with over 2,500 stores in the UK and Ireland and more than 44,000 stores in over 110 countries. The company has an ambitious target of 3,000 stores by 2020 in the UK and Ireland.
The investment required to open a Subway franchise is comparatively low for a brand of its size and stature and with relatively simple operations the business has a flexible approach to the physical layout of outlets.
All new franchisees undertake a two-week training course at the company's Cambridge headquarters before opening their store.
The University of Subway offers over 400 online courses for franchisees and store employees, while experienced regional development agents are on hand to provide advice and guidance on everything from site selection and design, to advertising and purchasing.
A Subway franchise is hugely rewarding, which is why over 70 per cent of new stores are opened by existing franchisees.
As well as extensive training and support, franchisees benefit from being part of a brand that has built a loyal customer base and is committed to reducing its carbon footprint and positively impacting the communities in which it operates.
What you need to know
Investment level:
From £100,000.
What you get:
two-week training course; over 400 online courses at the University of Subway; access to experienced regional development agents; regular franchisee conventions; participation in the franchisee advertising fund, which provides regional and national marketing and PR; purchase and supply chain activity managed by IPC Europe, a franchisee owned company.
Started in Australia in 1996, Granite & TREND Transformations is the franchise that brings affordable luxury to life and whose showrooms can now be found on four continents.
Whether it's a kitchen, bathroom or commercial space, the business has everything you need to design your ultimate dream space. A full service renovation franchise, it offers an impressive selection of stylish, luxurious and elegant surfaces - all at reasonable prices.
The franchise offers luxury products including Orsoni mosaic tiles, along with a wide range of top quality quartz, granite, recycled glass and cabinet replacement materials.
Granite & TREND Transformations' installation service eliminates the stress of managing multiple contractors and clients and avoids the problems and setbacks typical of home improvement projects. It uses recycled materials in most of its production, making Granite & TREND Transformations the eco-friendly option too.
Franchise owners come from different backgrounds and possess a range of skills, so renovation experience is not required - you will be taught everything you need to know. What matters is that you're passionate, self-motivated, enjoy working with people and are ready for a positive change.
What you need to know
Investment level:
£150,000.
What you get:
comprehensive ongoing training programme; at least two weeks' field training following launch; assistance with business planning, financial management and operations management; marketing support.
Visiting Angels is already one of the largest home care providers in the United States, with almost 600 franchised offices.
The business has been built over 20 years with strong ethical and community values at its core. The lessons learned from two decades in the private care sector are now being brought to the UK, as the Visiting Angels franchise is offered in this country for the first time.
Managing director Dan Archer explains: "One thing we learned in the US is the importance of structuring the business as a carer centric organisation.
"In the US, as in the UK, the availability of care staff is a challenge that comes from a competitive market. We believe it's not possible to deliver a truly person centred service to our clients unless we also focus on the needs of our carers."
The Visiting Angels franchise is currently seeking five candidates to join the business as founding franchisees.
Dan continues: "Our model is already well proven in the US and we have made the necessary legislative adjustments before starting the piloting of the business in the UK. We are now looking for five franchisees to work with us as development franchisees."
The development franchisees will benefit from being first into the business and, as a result, will be part of defining the future success of the franchise and work closely with the team at head office. A reduced franchise fee is being offered to the development franchisees.
What you need to know
Investment level:
£25,000 (£10,000 to the first five franchisees),
What you get:
full training, including one week in the US and one in the UK; ongoing support.