The UK has a thriving gym and fitness industry, with over 7,000 health clubs boasting more than 10 million members.
Together, this turns out a hefty profit, too — the annual health club industry's revenue is about $6.17 billion USD. The annual turnover of fitness facilities in the UK is £2bn.
Are you considering a new franchise opportunity? Are you wondering about the best gym franchises the UK has to offer?
Here, we highlight some of the best gym and fitness franchise opportunities in the UK and enticing reasons to consider them. If you're looking for a lucrative business opportunity or wanting to find out about personal trainer businesses like Fit Body Boot Camp, for instance, look no further.
Benefits of becoming a franchisee
Franchises, while they come with their own set of caveats, are relatively low-risk.
According to a 2018 survey by the British Franchise Association, an astounding 93 per cent of franchises are profitable. The failure rate attached to franchises is enticingly low — only about two per cent. Compare that number with the fact that around half of all non-franchised businesses fail within five years.
So, if you're looking for a business opportunity that's not bound for failure, becoming a franchise owner is a fantastic option. Of course, you must still prepare for some risk, and especially, expect the unexpected. That's part of being an owner of anything.
Besides the lower risk point, consider the following advantages of being a franchisee:
• Capital — and access to it — since most capital required to own and operate a business is provided
• High-quality, committed, and motivated management staff
•Financial and staffing leverage
•Speed of growth, where you can saturate the market before businesses can respond
Being a franchisee is the perfect alternative to those who are entrepreneurial in spirit, but don't want the risks involved or have the time and finances required of opening their own businesses from the bottom up.
Are you an ideal candidate for a gym franchise in the UK?
You may be encouraged to become a franchisee, but not sure if it's right for you. How do you know if you're an ideal candidate for gym franchises in the UK?
You may be a perfect fit if:
• You don't mind doing the necessary research that comes with franchising
• You're prepared for structured training
• You have industry experience and insight (not required or even expected for most franchises, but obviously a plus!)
• You're passionate about franchising as a hobby or career choice
• You enjoy working with the public and/or other businesses
• You're a responsible businessperson who can tackle bookkeeping, managing, employment, inventory, etc.
• You're willing to take direction from the franchisor above you during set-up
• You have managerial skill
• You're prepared to work hard, invest time and money, and prove your dedication
Does this list sound like you? Are you a devoted employee that knows your talents could be used to leverage greatness and success?
If your work ethic lends itself to being a leader rather than a follower, franchising could be the best bet for you.
What are the best gym franchises in the UK?
There's no lack of gym franchises available in the UK, offering you plenty of options. This fact also provides you with various investment costs, so you can choose something within your budget that's still satisfying.
Currently, which are the best gym, fitness, personal training and yoga franchises in the UK? Check these out:
•Gravity Trampoline Parks - Minimum investment of £1,200,000 - £1,800,000
• 9Round Fitness - Minimum investment of £60,000
• GYMGUYZ – Minimum investment of £36,000
• Anytime Fitness (the UK's largest gym franchise, with more than 165 locations) - Minimum investment of £170,000
• Curves - Minimum investment of £37,500
• Dawn Breakers - Minimum investment of £19,950
• easyGym - Minimum investment of £300,000
• énergie Fitness - Minimum investment of £95,000
• Gold's Gym - Minimum investment of £852,382
• HITIO Gym - Minimum investment of £100,000
• Jetts 24-Hour Fitness - Minimum investment of £125,000
• Snap Fitness - Minimum investment of £125,000
• The Shredquarters - Initial start-up investment around £90,000 (Current franchise fee not posted)
• Hybrid Fitness - Minimum investment of £50,000
• Pro-Fit Franchise - Minimum investment of £5,000
• The Little Gym - Minimum investment of £150,000
As you can see, there's a vast difference in each franchise's minimum investment, allowing you to budget based on your needs.
Keep reading to see a small peek into why each of these businesses may be the one for you.
Why consider these gym franchises? Pt. I
Here's a little bit about each gym franchise to help steer your decision:
Gravity Trampoline Parks is actively expanding its operations, franchising across Europe, Russia, Asia, and more. At the core of their demographic is family-friendly fun, but they do offer things like HIIT classes.
GYMGUYZ is a global brand with 260 locations in the US and is now expanding in the UK, providing one-on-one, group and corporate fitness training programmes. The mobile fitness franchise's personalised approach helps clients achieve specific goals, whether it be weight loss, overall health improvement, enhanced athletic performance, or managing the effects of a medical condition. Plus, GYMGUYZ will bring all the equipment; its vans are fully equipped with everything needed to deliver, convenient, customised and creative workouts in the comfort of homes, gardens, workplaces or any location of choice.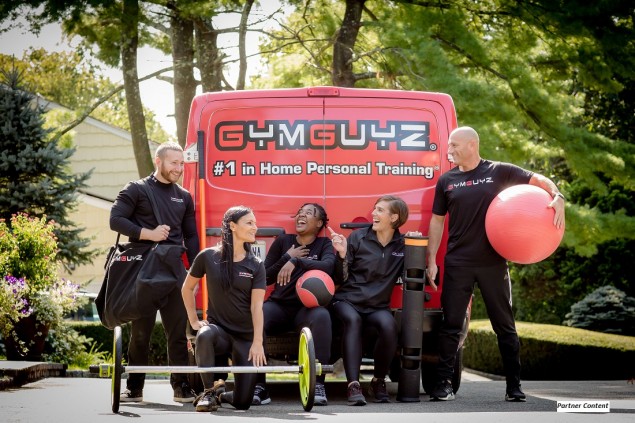 The GYMGUYZ franchise opportunity is a turnkey, low-overhead business model with no requirement of premises or build-out costs. Though a desire to participate in the fitness industry is important, franchise owners do not need to have previous fitness experience.
As a GYMGUYZ franchisee, you'll own a scaleable business in one of the fastest-growing industries, led by an experienced team and strong training support.
"Joining the GYMGUYZ team was a leap of faith and it turned out to be the best decision I ever made"
– Sam L, GYMGUYZ fitness franchise owner
What you need to know
Investment:
The minimal investment for a single unit is £36,000, including the franchise fee of £25,000 and the rest is setup costs and cashflow.
What you get:
A single unit is a franchise territory with a population averaging 130,000 to 150,000 people, with a minimum set number of people in the high earning social group. Franchisees have the option to increase the size of their business by buying three units to create an area or three areas that form a region. However, you can add single units at a time as well.
The franchise fee includes an exclusive territory for 10 years (renewable), training and support, guidance through the launch process – everything from coordinating van ordering and delivery to purchasing equipment, apparel, marketing items, phone system setup, recruitment and more. GYMGUYZ believes in establishing a strong partnership from the moment the onboarding process begins and making the process as simple as possible for franchisees so they can be up and running in as little as eight to 10 weeks.
Dawn Breakers is perfect for those early risers. After much success, they began franchising opportunities in 2017. Expect early-morning training accompanied by nutrition courses.
9Round Fitness is a management franchise that provides high-intensity, 30-minute workouts with influence from martial arts, boxing, and kickboxing.
Anytime Fitness is the largest fitness franchise in the entire UK.
It boasts 24-hour operations seven days a week, is established in 35 countries, and has over 4 million members! If you want to franchise in something that's known the world over, here's your go-to.
Curves, also referred to as Curves for Women, is a fitness club exclusively for women that offers 30-minute workouts in a small group setting. This is an ideal opportunity for someone who wants to focus on a more niche fitness club.
easyGym offers 98 per cent consumer recognition in the UK and over 90 per cent across Europe! easyGym is a part of easyGroup, which specializes in transportation, hotels, coffee, fitness, and more. Memberships are low-cost and ideal for beginning gym-goers.
énergie Fitness is one of the more low-cost gym franchises in the UK. They provide inexpensive gym memberships, too, and have over 100 clubs in the UK.
Gold's Gym is perhaps the most iconic fitness brand in the world! Every day, their gyms see about three million users. If you want to get involved with an established name that's been in operation since 1965, here's your perfect choice.
Why consider these gym franchises? Pt. II
Phew! You've got quite the selection!
But we're not done yet—keep reading.
The HITIO Gym franchise combines standard fitness classes and gym settings with combat sports training. They recently began franchising in the UK in 2019. This is great for entrepreneurs who want to make a name for themselves and their business through hard work.
Jetts 24-Hour Fitness is an award-winning Australian fitness company. This management franchise has over 250 clubs around the world!
Snap Fitness offers an affordable and convenient way for gym-goers to work out. They've been around since 2003, beginning in Minnesota. They are part of the Lift Brands group, which includes 9Round.
What can you expect from The Shredquarters? A bespoke (meaning, particular) training facility that specializes in intensive cardio and weighted workouts aimed at, you guessed it, shredding.
Hybrid Fitness is a more boutique-style fitness studio. They offer state-of-the-art equipment and provide intimate fitness classes in small groups.
With the Pro-Fit Franchise, you have three options: 1) Operate from your home gym as a personal trainer, 2) Operate a PT business with PTs working under you, or 3) Open a PT studio and rebrand your current business!
And finally, The Little Gym, which focuses on children's developmental gyms.
How to start a gym franchise in the UK
Starting a gym franchise in the UK doesn't have to be challenging — there's tons of information out there that makes the process as transparent, seamless, and straightforward as possible.
To stand out as a prospective franchisee, you first have to decide on which type of franchise you want to apply for. You'll then complete the competitive recruitment process. Make sure to do your research on the franchise opportunity and learn everything you possibly can about it—this will give you a competitive edge.
Once you've established a good relationship with the franchisor, you can discuss a contract and the expectations. Before you sign a contract, you'll acquire the franchise funding you need. You may have the money on-hand, or you could consider various loans.
You'll need to figure out the location for your franchise, too. Since gym franchises are retail spaces, look for something accessible, located in a pleasant environment, and near your target customers. It also helps to be near compatible businesses—for example, a coffee shop or smoothie shop.
Once you go through these steps, you can take the provided training, and then prepare for your grand opening!
Time to open your new gym
Now you see that when it comes to gym franchises in the UK, there are so many options for you.
You're about to join a lucrative, exciting business. These opportunities await you!